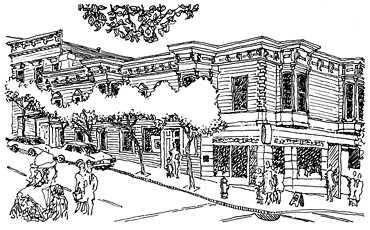 Following Your Bliss, Artfully

Follow your bliss, say the new-age gurus, and personal happiness and professional satisfaction are more likely to come your way.

Thomas Reynolds shows few signs of new-age flakiness, even after almost 30 years in California. But following his bliss — in this case, a passion for paintings — has resulted in what is clearly a satisfying and successful venture for the former lawyer and publisher.

Reynolds owns and directs an art gallery bearing his name in San Francisco's Fillmore shopping district, the commercial stretch of the city's tony Pacific Heights neighborhood. He specializes primarily in painters and paintings of California. And he has developed a reputation for presenting a very strong group of contemporary artists whose work is based in realism, while reflecting the liberating lessons of 20th century modernism.

In 1994, Reynolds took a break from the legal world. He had become interested in collecting art. And though he says he had better business sense, he wanted to be more involved in the art world. Finally he couldn't — or at least didn't — restrain himself when he saw the work of a young artist from Thailand who lived and worked in the neighborhood. Reynolds rented a Victorian for a six-week show of the artist's paintings.

Almost two decades later, he's still there, and his gallery is flourishing.

"It has been rewarding in every sense," says Reynolds. "I've been able to indulge my interest in living with paintings and to share that joy with others. And I've been fortunate to present the work of some very talented painters."

Judging from the number of red dots on his gallery walls (indicating a painting is sold), collectors agree with his assessment of the artists Reynolds shows. Recent exhibitions have been critical and commercial successes.







HOME