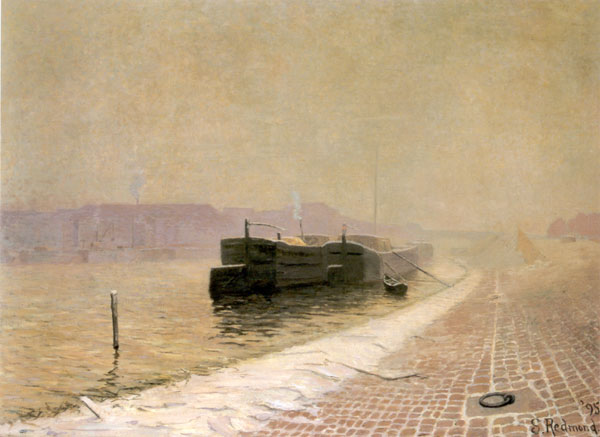 Granville Redmond, Matin d'Hiver
38 1/2 x 51 1/2 inches, oil on canvas, 1895
Collection of California School for the Deaf, Fremont
Exhibited in the 1895 Salon in Paris

Whistler's Monocle
It was a glittering evening in Paris a few months after Granville Redmond arrived in November 1893 to study at the Academie Julian.

Redmond's former teacher, the deaf sculptor Douglas Tilden, had welcomed Redmond to Paris and taken him in as his roommate. On this night Tilden was invited to an assembly of the great French masters.

Redmond remembered, in a story he wrote near the end of his life, the encounter that night between Tilden and the high priest of tonalism, James Abbott McNeil Whistler.

As they shook hands, Whistler spoke and was taken so back on finding Tilden a deaf mute that he let his monocle drop on the floor, perhaps for the first time in his life. Both stooped to pick it up, Whistler reaching it first.

This intriguing incident, with its amusing side, has always made an impression on me as it was so characteristic of Whistler's outburst of spontaneous feeling. An emotional genius quickly responsive to outward stimulus, to the strange and the powerful, he showed the same nervous strength in his paintings, and we all know of a hundred anecdotes about his cutting wit.

He was then aging and his hair was gray though still curly, but minus the famous bit of ribbon tied to the curl over the forehead. At the table, he drew his celebrated butterfly signature on Tilden's menu card, and this souvenir Tilden is keeping to this day.